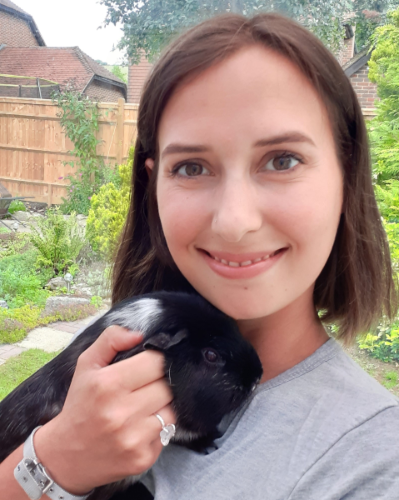 Small Animal Expert
Pet Sitter in Deal
Do you worry about your little critter's safety while you're away?
Will someone know what to do in an emergency?
Want them to have more than a feed, water and fuss?
You don't JUST need a pet sitter.
You need the only pet sitter in Deal who specialises in rabbits, guinea pigs and hamsters.
Author
Lucy is the author of 'The Happy, Healthy Guinea Pig Guidebook: The Ultimate Step-By-Step Guide for a No Mess, Zero Stress Guinea Pig Owning Experience', currently available on Amazon and Kindle. 
To grab your copy, click the button below.
As Heard on BBC Radio Kent
Lucy has appeared in various magazines, newspapers and radio, talking about the importance of our little critters' welfare.
A sponsored walk dressed as a rabbit lead to Lucy speaking Live on BBC Radio Kent about the important message 'Rabbits Are For Life, Not Just For Easter', where she raised £400 for local rabbit and guinea pig rescue.
To listen, click the button below.
About
Do you worry about your pets safety and whether they will get enough interaction while you are away? Are you looking for a pet sitter in Deal that understands the complexities of small animals without having to travel with your pets? These are what I worry about when I go away too, and although boarding at a rescue can be great to have someone know what to do in an emergency, I don't fancy my spoilt piggies being kept in a pet store cage while I'm away!  Because of this I provide a service that can take away all those worries, leaving your pets in total safety whilst having a great time in the comfort of their own home.
I'm Lucy, owner of Little Critter Care, the only pet sitter in Deal that specialises in caring for rabbits, guinea pigs and hamsters in your home. As a published author, appearing in The Sun, BBC Radio Kent and other media, you'll be sure to get expert care for your little critters.
Little Critter Care services are designed to help your little critters THRIVE instead of simply survive.  Keeping up to date with the latest rabbit, guinea pig and hamster care recommendations is very important to me and whether it's a small pet staycation, guinea pig spa or pet care workshops, they will help your family and your little critters to have a strong bond.
We are so impressed

"We've had the pleasure of having Lucy look after our hamster (Katie) while away on holiday a couple of times now and we are so impressed by how professional, caring and thorough she is. The daily updates are great and really help ease the mind when away. She's also been a great fountain of knowledge with our hamster when I've had questions around care/health. Thank you Lucy!"

We would definitely recommend her

"Lucy has been trimming our rabbits nails regularly. One of our rabbits is very nervous but Lucy is very good and calm with them. She is reliable and really helpful, gives us suggestions and helps with our general questions about rabbits! We would definitely recommend her."

A natural with animals - I highly recommend her

"Lucy has been looking after our pets for a few years now and it's always been great! She is all the things you want when you entrust your precious critters to someone – diligent, responsible, sensitive and a natural with animals. I highly recommend her to anyone."

Thoroughly recommend Lucy

"Lucy was fantastic keeping us informed about how the rabbits were doing and checked in regularly to let us know what was happening. I would thoroughly recommend her to look after your pets."

Lucy is absolutely brilliant

Lucy is absolutely brilliant, so reliable and cares for pets as if they were her own! I knew we'd found somebody special when she came to meet our pet rats beforehand and was super thorough with their needs and any additional information we needed to provide, making really detailed notes. She provided daily photos and videos for us which was really lovely

 

Highly recommended to look after any much loved pets! Thank you Lucy

I was able to fully relax during my weekend away

Little Critter Care is a wonderful organisation – giving complete service to the little pets left in their charge. My indoor cat was very happy to be visited and Lucy took time to feed, play and groom him – to say nothing of regular picture updates of his antics !


It meant I was able to fully relax during my weekend away which was very special and much appreciated.


Highly recommended if you are going away this summer !

Lucy really took the time and effort to get to know them and get them to trust her

We can't recommend Lucy enough, from the first visit our cats were totally relaxed with her, came when called and spent time sitting on her lap, which is unusual as our cats can take a while to warm to people and have not come home for days on end in the past! Lucy really took the time and effort to get to know them and get them to trust her. We will definitely be using Lucy again.

Our nervous cat loved her

"Lucy did a fantastic job of looking after our cat while we were away. Our normally nervous cat loved her immediately and she gave us regular updates on how he was. We would definitely book her again."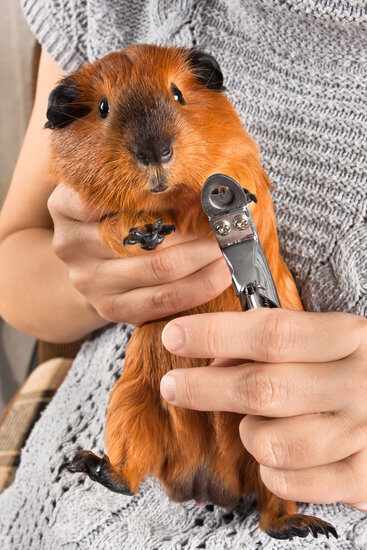 As a mobile groomer specializing in rabbits and guinea pigs, I understand the concerns and fears that pet owners may have when it comes to trimming their furry friends' nails. The main worry is accidentally hurting them by cutting the nails too short. However, in my experience, such incidents are rare, and the real key […]